A large earthquake caused significant damage and left three people critically injured
in California's northern Bay Area early on Sunday
, igniting fires, sending at least 87 people to a hospital, knocking out power to tens of thousands and sending residents running from their homes in the darkness.
Two adults and one child have critical injuries and the Queen of the Valley hospital has treated 87 people, the city of Napa said in a statement.
Most patients had cuts, bumps, bruises, said Vanessa DeGier, spokeswoman for the hospital, which is in Napa. She said the facility had treated a hip fracture and a heart attack, but it was unclear if they were related to the quake, which the US Geological Survey measured at a magnitude of 6.0.
The hospital had set up a triage tent and many people were still coming in, DeGier said.
The Napa city government reported four mobile homes destroyed and two still on fire in the northern part of the city, and 50 gas main breaks, 30 water main leaks and damage to historic buildings as well as commercial properties.
Napa fire chief Darren Drake said the quake caused six significant fires. There were no reports of any fatalities, said Barry Martin, public information officer for Napa, who said he did not have details on the injuries.
The earthquake struck about 10 miles northwest of American Canyon, which is about six miles southwest of Napa in California wine country, said Leslie Gordon of the USGS. It was the largest earthquake to shake the Bay Area since the 6.9 magnitude Loma Prieta quake in 1989, the USGS said.
Unreinforced masonry buildings in downtown Napa including the historic courthouse and library suffered major damage, city officials said.
"There's collapses, fires," said Napa fire captain Doug Bridewell, standing in front of large pieces of masonry from a turn-of-the-century office building where a fire had just been extinguished. "That's the worst shaking I've ever been in."
Bridewell said he had to climb over fallen furniture in his home to check on his family before reporting for duty.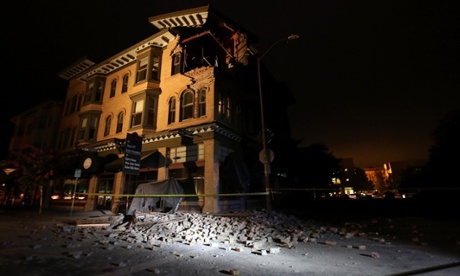 "Everything was just shaking, the hanging lamps waving back and forth," said Omar Lopez, 24, night clerk at a small inn in St Helena, 15 minutes outside Napa. "Guests came into the front desk after the quake and they said the swimming pool looked like a bunch of people had jumped in at the same time."
"Oh I felt it. When I woke up I was lying on the floor. It kicked me out of bed," said Keith, a man who lives in Napa and who wanted to be identified only by his first name. He said he went right into his job at the front desk of a Napa hotel, leaving his house in disorder.
"The house is a mess, everything is out of the cabinets in the kitchen. Dressers tipped over."
The shaking, which was felt over a wide area, emptied cabinets in homes and store shelves, set off car alarms and had residents of neighbouring Sonoma County running out of their houses. Officials said widespread power outages had been reported.
"It was a rolling quake, said Oakland resident Rich Lieberman. "It started very much like a rolling sensation and just got progressively worse in terms of length. Not so much in terms of shaking, but it did shake. It felt like a side-to-side kind of rolling sensation. Nothing violent but extremely lengthy and extremely active."
"It was long. I think it was the biggest one since I felt since I felt the 1989 quake," said Stephanie Martin, 47, a nursing assistant in Oakland, south of the area where the quake was felt more strongly. "Nothing tipped over, thank God. Rolling back and forth. Just woke us all up."
The USGS said the depth of the earthquake was just less than seven miles, and numerous small aftershocks had occurred in the Napa wine country.
"A quake of that size in a populated area is of course widely felt throughout that region," said Randy Baldwin, a geophysicist with the USGS in Golden, Colorado. "The 6.0 is a sizeable quake for this area. It's a shallow quake. It's about six miles deep. We received hundreds of reports on our website from people that felt it in the surrounding area."
Aftershocks can continue for the next several weeks and experts will watch their distribution to determine if this quake happened on a fault line, Baldwin said.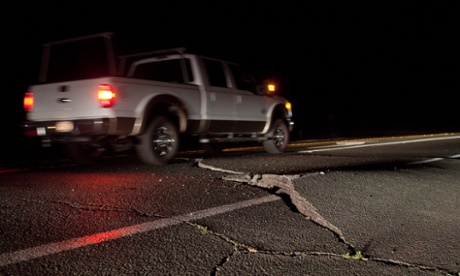 Numerous emergency vehicles were on the roads in Napa and Sonoma counties. A California highway patrol officer, Daniel Hill, told KTVU-TV road damage appeared confined to the Napa and Sonoma areas. He said there appeared to be no damage to major bridges in the Bay Area.
"They are in pretty good shape," he said, noting that a couple of the roadways in the Napa-Sonoma area had some bumps and cracks.
http://www.theguardian.com/world/2014/aug/24/california-earthquake-northern-san-francisco-bay-area