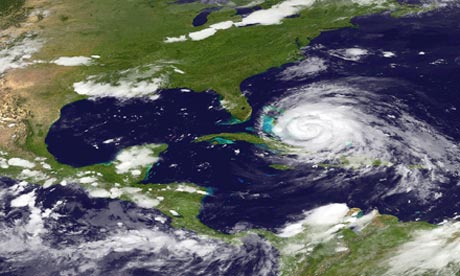 An earthquake rattled the entire eastern seaboard for just a few moments this week. It gave no warning, absolutely no indication it would ever happen, and then in a matter of seconds, it disappeared. By late afternoon, everybody was back into the Manhattan groove – and whatever passes for it in Washington, Philadelphia and so on. But the quake was only the lead paragraph on what will be a week-long weather story about another, more slowly approaching bit of tumult: Hurricane Irene.
Interesting that, since we now have such accurate electronic prediction devices, such drama-hungry media outlets, and such universal personal communication, every individual who is evenly remotely in the path of this bit of weather is being subjected to the psychological stress of The Wait. Accessing TV and the web every 15 minutes to see if the "cone of prediction" has finally encompassed one's home territory becomes a compulsive ritual. The Weather Channel doubles up on staff, knowing their hair replacement and toe fungus ads triple in value during storm time.
Surviving here on the Gulf Coast, my own life has been punctuated by many like events. However, the first two storms occurred in a time with relatively primitive advance indicators. In that uninformed time, we did not suffer through days of anxiety, and as both hurricanes passed, the human toll was largely unaffected by lack of preparation. The material cost, that was inevitable. Nothing to be done. But there was no noticeable extraneous life loss incurred solely by overabundance of worry.
1957's Hurricane Audrey was, and remains, the most powerful American storm ever in the month of June. A Category 4, Audrey crashed headlong into south-western Louisiana. I was in third grade and spending a week at a very primitive, though enjoyable, woodland summer camp with my two cousins. One night, the wind began blowing hard and the rain started coming sideways, so we all got to sleep on pallets in the cafeteria. We ate peanut butter and jelly sandwiches by candle light. That was my Hurricane Audrey.
A week later, my father and I drove down to the devastated coast, to the tiny village of Holly Beach, where we spent time each summer at a small ramshackle beach house. Approaching the Gulf shore, Dad kept his eye on the odometer, anticipating a disruption in roads and signs. He was correct to do so. Two miles from Holly Beach, a large oil tanker straddled the road, east to west. There was no one on board. We drove very carefully through the drained rice fields, travelling around the propeller, which towered 20ft above our car. In only another mile, we were at the water's edge.
But Holly Beach was nowhere to be seen. The sand never returned, and the original village remains a quarter of a mile out to sea. And thus did Audrey affect me, after the fact.
In 1965, Hurricane Betsy roared directly over New Orleans itself, then crashed straight upriver through Baton Rouge, coming ashore during my first week at university. I had been away from home and on campus for only three days, sleeping on the top portion of a squeaky bunk bed, drinking beer with disparate young strangers – in the process, hoping to parse the very beginnings of an adult life.
We had no TVs or cellphones or computers, little interest in listening to weather reports on a radio otherwise filled with the Beatles and Stones. Thus, we had received no advance warning when we awoke to no electricity and 155mph winds. Betsy was just suddenly there, gusting hard enough that the mile-wide Mississippi River rose 10ft on its banks. Water came in over the levees from Lake Ponchartrain, but the levees held.
Roaring winds rattled the dorm's wrought-iron windows. I dropped to the floor from my bed. Passing through some four unexpected feet of cold fluid and floating shoes.
My ground-floor dormitory room was waist-deep in floodwater. I splashed forward and looked out the main entrance of the sturdy, thick-walled building, fascinated. Cars were rolling down the street, propelled sideways by the wind to move on their own. Overhead, sprawling uprooted live oaks, three stories tall, flew over low-lying classroom buildings, and crashed into taller structures.
And I thought: "So this is what life away from home is like." Betsy, as bad as it was, was not able to traumatise in advance. It was just there.
Forty years later, I arrived back in New Orleans from Japan 48 hours before Katrina. I was severely jetlagged, but when I reached the house, I immediately grabbed a ladder and began securing plywood storm shutters to the 27 windows in my house. By the time I finished, the storm was only 18 hours away and the city was under a mandatory evacuation order. There was also tremendous emotional pressure to run. I did. After 14 hours of horror-filled driving, the VW bug with three cats and no clothing arrived in a safe haven, 200 miles north.
It was the first time I evacuated in my life. I have vowed to never leave again.
My 48-hour-out hurricane preparation kit now involves batteries and flashlights, bottles of lamp oil and hurricane lanterns, fresh water and a chest full of ice, a battery-operated radio and two good books, a couple bags of chips and, of course, a conspicuously large supply of bourbon.
And, because I live where I do, I have secured in my patio a small pirogue – a shallow water Cajun boat – and a gas-fueled generator. Neither of which is probably necessary in New York or Boston.
But in any locale, a serenely positive attitude and selected information absorption are essential. If it is going to happen, it will. These days, after logistical preparation is complete, I enter a vacation state of mind, allowing myself only two weather updates a day.
High winds or no, Happy Hour will occur as needed.
http://www.guardian.co.uk/commentisfree/cifamerica/2011/aug/25/hurricane-irene-gabour-preparedness