The News of a 10th death attributed to Irene, with
National Hurricane Centre's latest
suggests that Irene is losing force.
Reuters reports
that it has now been downgraded to tropical storm status from category 1 hurricane.
Meanwhile, local media are saying that Irene made landfall at Coney Island at about 9.30am ET, with 65mph winds. Boston and points north will still be braced for high winds in addition to the heavy rain.
As predicted, the number of people without power is climbing all the time.
The Houston Chronicle now believes
the total is 4 million, although one suspects they may have been keener to call it at that landmark number before showing their working.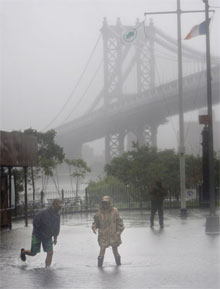 @paulxharris
) has been out and about in downtown Manhattan, and just sent this bulletin:
Our guy Paul Harris (
The East Village, around 1st Avenue and 7th Street, certainly seems to bear up the idea that as far as wind speeds go Manhattan is being spared the sort of disaster people feared. Outside, it's currently very rainy with howling gusts of wind but there is little damage visible.
A few fairly large tree branches lie in the street but the local deli corner shop is still open. There was even a man taking his dog for a quick morning walk wearing a T-shirt and carrying a sturdy-looking umbrella.
But this area is a long way from the East River and the main threat to the city is the storm surge. No sign of flooding here at all. But that is to be expected. The main areas vulnerable to the storm surge lie to the south and east along the rivers.
We'll be watching that situation carefully and keeping you posted.
WNYC reports that the East River is cresting its banks in lower Manhattan. Meanwhile my colleague New York business correspondent We're expecting a Fema press conference at 11.30am ET from Washington, DC, with Homeland Security chief Janet Napolitano and Fema's Craig Fugate, to update the nation on the federal response to Hurricane Irene; we'll be covering that later.
Dominic Rushe
tweets
that on West Broadway, in Soho (downtown Manhattan), water is reversing out of the grates and manholes and causing flooding there.
But media commentator and Murdoch biographer
Michael Wolff
seems undaunted; he just tweeted:
Just went out for the paper
Hope he has a plastic bag for that – if he can find a copy to buy and a shop to sell it to him.
Progress of Irene can be followed via
this interactive graphic
.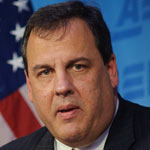 Governor Chris Christie tweets
his interview on the Today Show. He reports that 15,000 people in New Jersey have taken up residence in the state's evacuation centres, while Today shows images of a grey, choppy Hudson River off Hoboken, across the water from Manhattan. Says the governor:
New Jersey
We've got record flooding in New Jersey. It's already happening … Inland flooding is at record levels. We've got people trying to leave their homes and we're getting distress calls from people in their cars being swept away by the water.
He urges citizens of New Jersey to stay safe in their homes. He is asked about the nuclear power generator at Oyster Creek, NJ, which was shut down at 5pm Saturday. Christie says this was for "an abundance of caution" and there is "no concern at all" about the status of that power plant.
He confirms that 400,000 people in New Jersey are now without power.
I'm failing to embed that video here presently, but you can view it on
YouTube
.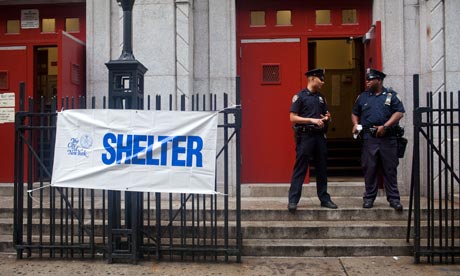 Via It's now light in New York City, or as light as it's going to get today. It's raining in Manhattan, but not torrentially right now; and the wind has abated. But that seems very likely to change as the storm system rotates, and the eye of the hurricane passes close to the city in the next few hours.
WNYC's Twitter feed
, a public radio listener has
posted this picture
of the water rising in lower Manhattan in view of Brooklyn Bridge.
According to NBC New York
, fire fighters have been answering scores of calls during the night for utility polls, trees and power lines downed in Queens. ConEd (New York City's main power company) is now reporting 75,000 customers without power.
CNN is reporting
that late Saturday night, a nuclear reactor at Calvert Cliffs, Maryland shut down automatically due to hurricane-force winds.
"The facility is safe; there is no impact to employees or our neighbors," [Mark] Sullivan [spokesman for the Constellation Energy Nuclear Group] said. "There is no threat."
The company has not updated its news feed yet, so no word on whether that reactor has powered back up at this point.
My colleague
The truth is that the National Hurricane Center and its parent agency, the National Weather Service, are relics from America's past that have actually outlived their usefulness.
I think a few tens of millions of Americans might beg to differ, just now.
Oliver normally resides in Brooklyn, but tells me he is safe and dry in York. That's old York, UK.
Latest tracking of the hurricane predicts that it will make landfall again at about 10am east of New York City, on western Long Island. That would be Nassau County, east of Queens, which happens to be one of the wealthiest counties in the United States – though, paradoxically, one hit by budget crisis. Earlier this year, the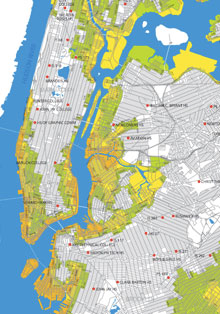 According to WNYC
, New York's public radio station, the storm surge has pushed the sea level up about 4ft above normal down at the Battery, which is at the southern tip of Manhattan in the New York harbour area. We're still a couple of hours away from high tide, which is due to be higher than normal in any case, thanks to a new moon.
It will be touch and go as to whether there is flooding around Wall Street – much may depend on the wind direction at the critical time, as I was hearing on WNYC last night: in the huge rotating weather system that is a tropical storm, you get winds in opposite directions in different areas. So, apparently, storm surges depend on whether the wind aligns with tidal flows in a given area. But I'll be looking for more expert metereological opinion on this.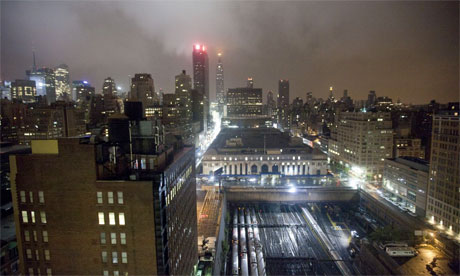 the rainfall radar
here suggests that the heaviest precipitation is now across a huge area of New England. The hurricane just made landfall on the New Jersey coast a little while ago, still some way to the south and east of New York City. It's due through here at about 10am ET.
I'm working just a block or two from where this photograph was taken last night: a view up 34th Street, looking east, towards the Empire State Building. The rain is still pretty intense outside in Manhattan right now, although
An overnight summary, as Hurricane Irene moved through the United States' Atlantic coast and the eye of the storm is due to hit New York this morning with heavy rain, hurricane-force winds and a storm surge:
• Overnight, the death toll has risen to at least nine.
Five people were killed in North Carolina; three more died in Virginia, including an 11-year-old boy whose home was hit by a falling tree.
• Hurricane Irene is moving north at 18mph, still a category 1 hurricane, with sustained winds of 75mph recorded.
• Nearly 3 million people are without power as the hurricane moves up the eastern seaboard.
About 180,000 on Long Island are affected by electrical outages, with 30,000 people in New York City already without power.In neighbouring New Jersey, as many as 330,000 have had power cuts.
• More than 300,000 people have been evacuated from 'zone A' vulnerable areas in New York City.
High tide at 8am in New York harbour coincides with the height of the storm, creating the risk of widespread flooding in low-lying areas.
• Lower Manhattan, including Wall Street, is threatened by storm surge flooding.
Power company ConEd has said it will cut power pre-emptively if the flooding looks likely, possibly leaving the financial district without power going into Monday.
Welcome back to our live coverage of Hurricane Irene's progress, as the eye of the storm is expected to pass through New York City in the next few hours, and move north towards New England.
http://www.guardian.co.uk/world/blog/2011/aug/28/hurricane-irene-new-york-live-coverage1