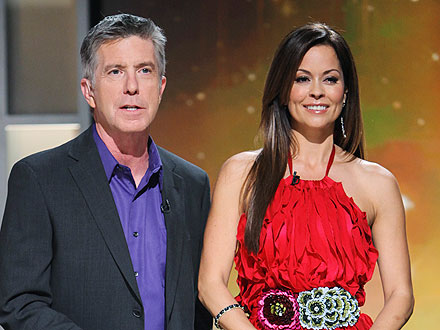 It was personal story night on Dancing with the Stars, with the celebrities picking a song with emotional meaning and telling about their pasts with their routines.
But all that was overshadowed by a dramatic moment Monday night that drew gasps in the ballroom – and raised questions about whether one pair of competitors could continue.
Continue reading for the details.
Kirstie Alley and Maksim Chmerkovskiy were dancing the rumba to "Over the Rainbow," with Alley telling the poignant story of her move to L.A. to become an actress and her mother's death, when the pair fell – to the shock of the audience.
It appeared that Chmerkovskiy's leg gave out and he tumbled while holding Alley, who also went to the floor. They were able to get back up and finish the routine, but Chmerkovskiy was wincing and appeared to be in pain.
"My thigh just gave out. I'm so sorry. I'm so sorry," a perspiring Chmerkovskiy said later. "It has nothing to do with her."
The judges still gave them a respectable 21 out of 30 points.
"Sometimes tragedy leads to an amazingly beautiful moment," Carrie Ann Inaba said, noting that after the fall "something magical happened."
"You've overcome it," said Len Goodman. "You got up and dusted yourself off."
And 
Bruno Tonioli added, "You can't keep good talent down. Once you got up it was better than ever." 

http://www.people.com/people/article/0,,20479281,00.html